6th November 2019
Which Type of Fireplace Should You Buy? Gas, Wood, Bioethanol or Electric?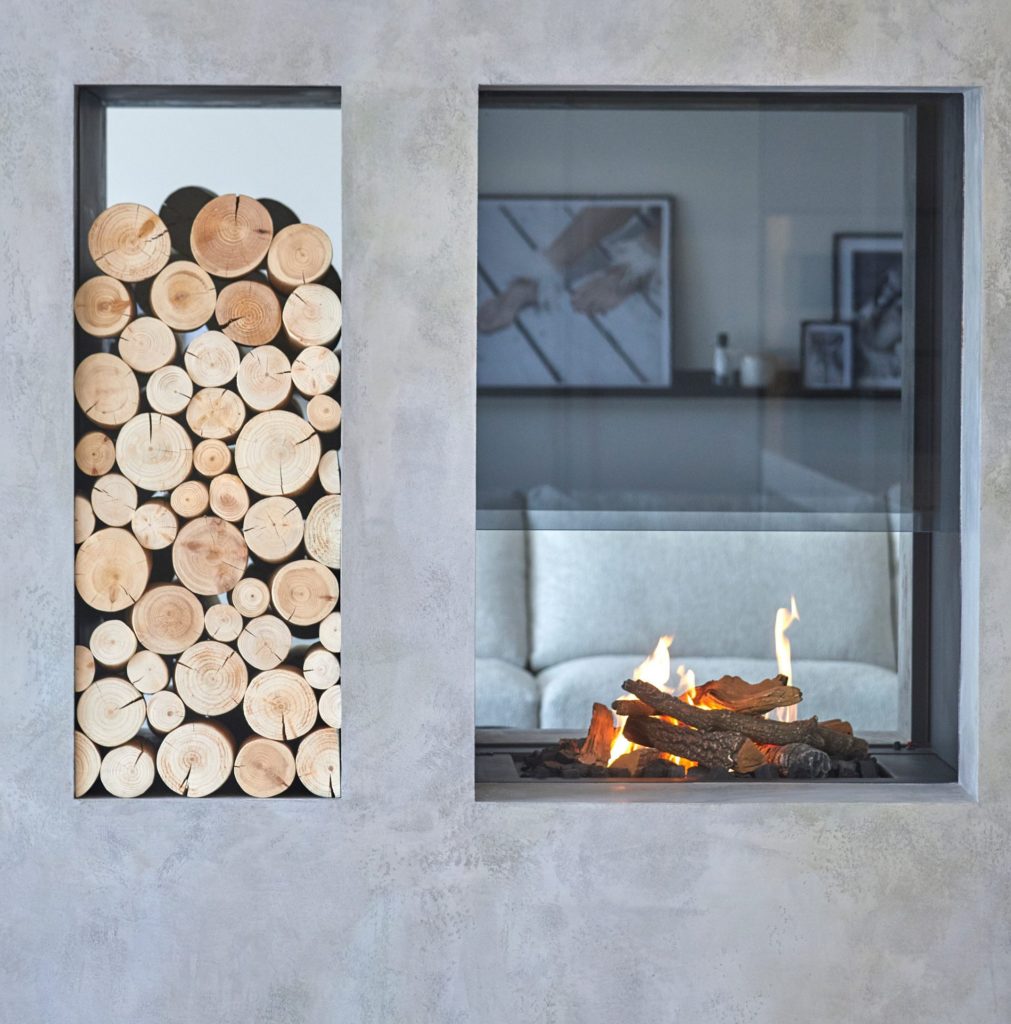 When deciding on a new fireplace, one of the first and biggest decisions you need to make is what type of fuel you want the fireplace to use. There are many choices out there for your fireplace but gas, wood, bioethanol and electric are the main ones. We have broken down each fuel type to help you make that crucial decision on which fuel type you should go for.
Gas Fires
This is the most common fuel for new fireplaces and gives you the convenience of a quick 'fire on demand' through either a turning push knob or remote control.
There are 2 different options of gas with the simplest being natural or mains gas. If your house is connected to the mains gas system then this would always be the preferable way to fuel the fireplace as the gas is already there. If your property is off the grid, and you still want a gas fireplace you can use LPG or bottled gas. With LPG you need to factor in the storage of the large gas bottles into your fireplace design as they need to be stored outside. Most of our clients hide them in some sort of storage unit. LPG gas and natural gas fires are manufactured slightly different so you to make this decision made early on in the process, especially for custom made or bespoke fireplaces.
With a gas fireplace, the basic requirements needed are a flue/chimney outlet for burnt gases and air supply for combustion. With many of the modern fireplaces, you also need an electrical point as they are all fully electronic. Gas fireplaces can be decorated in a number of different flame bed decorations, including very realistic looking ceramic logs and coals, white marble chippings, black diamond stones or lava stones.
If you have decided on a gas fireplace there are 2 types of gas fireplaces that you need to consider: open-fronted gas fire and a glass-enclosed fireplace. Let us take you through the pros and cons of both:
Open-fronted gas fire
Pros
Visually nicer as there is no glass between you and the flames, more realistic
Lower heat output – a lot of people don't need extra heat due to underfloor heating or radiators and only want the fire as a cosy focal point, to add atmosphere and some background heat. You do however get some heat and can adjust the flame height to warm/cool down the room.
Because the fire is open-fronted, it offers a lot of flexibility in design
Cons
Technically more demanding than closed fronted fires
Tend to be more expensive as they are made to order
Often require the addition of a fan to ensure safe extraction
Lower efficiency rating than closed fronted designs, though our fireplaces have been developed to significantly increase the fireplace efficiency
Glass-enclosed gas fireplace
(Also known as a balanced flue fireplace)
Pros
Easy installation
Very high heat output and high efficiency
These are standard units so less costly
Cons
Glass gets very hot and stays hot after you turn the fire off so safety is an issue
Heat output sometimes too high for many modern well-insulated properties
No flexibility in design – units are CE approved and cannot be altered
Wood-Burning Fireplaces
Wood fireplaces have the same basic requirements as a gas fireplace in that it needs a flue/chimney outlet for burnt gases and air supply for combustion, but the main difference is that it is a much less technical fireplace. One thing to be wary of with wood-burning fires is that there are now large areas of major cities that have been declared smokeless zones where you have to use expensive smokeless fuel only. Please check your area before choosing a wood fire.
Where you can use normal wood though, a wood fireplace is cheap to run and you have the flexibility of building the size fire that you require. Wood burning fireplaces do give out a lot of heat, but of course, it is harder to control the heat output.
Wood fires do require more maintaining and cleaning than a gas fire but if you are used to this maintenance already it won't bother you.
Unlike a gas fire where you can get shut off valves for the air duct and flue, wood fires need a permanent supply of air, so the overall efficiency is reduced.
You can also get a glass-enclosed wood fire which is accessible by sliding up the glass window at the front to build the fire. This is a highly efficient fireplace as once closed it is sealed, and it gives out an extraordinary amount of heat, which people may like or not.
Bioethanol Fires
This relatively new kid on the block has come a long way since its inception. Bioethanol fireplaces are a really good option for easy installation as there no need for flue/chimney, and these flueless fireplaces only need an electrical point to work. They use bioethanol liquid fuel which needs to be refilled on a semi-regular basis. With a bioethanol fireplace, you will see a ribbon of flame with no flame bed decorations so the look is very contemporary, sleek and modern. The bioethanol burners can be fitted into a variety of different designs making this an extremely flexible option.
The main downside of a bioethanol fireplace is that you have to refill the fuel tank as it runs out so it is less convenient. The more high end, fully electronic bioethanol burners will tell you when you are running low and will use an automatic refill pump to refill the machine.
Some things to consider with a bioethanol fireplace:
You have to make sure that you are getting the right-sized burner for your room – each one should come with the minimum room size and there may be a need for ventilation around the fireplace or elsewhere in the room.
There may be a slight odour emitted when it burns that some people can smell and others can't.
There have been some safety concerns around the cheaper, manually operated bioethanol burners (the ones where you pour in the liquid fuel) so we would recommend only using the electronic burners that burn the vapour of the fuel rather than the fuel itself.
Editor's note: All the bioethanol burners that Modus Fireplaces use are fully electronic, have an automatic refill pump and burn the vapours from the fuel when heated which is a much more efficient and cleaner-burning system.
We are going to write a longer article on just bioethanol fireplaces soon so look out for that.
Electric Fireplaces
There are a whole plethora of electric fires out there but the ones we are going to talk about are purely decorative as they give out no heat. The electric fires Modus Fireplaces sells use a mixture of LED lighting and water vapour to produce the illusion of flames. They are extremely easy to install and can be placed anywhere. They are great for places that cannot have a real fire but still want the effect of a fire. However, although you get a good representation of a fire, it by no means holds a candle to the real thing!
I hope this has given you some food for thought to help you make that vital decision on which type of fireplace you should go for. Browse our wide collection of fireplaces in a range of different contemporary designs including hanging fireplaces, double-sided fireplaces, wall fires, outdoor fireplaces and more.
Please contact us and find out how we can help you design your dream fireplace.