26th February 2018
Designer Fireplaces: What You Need to Know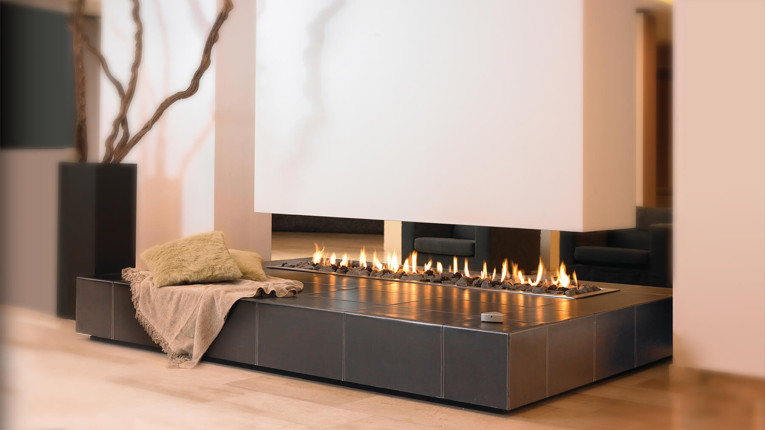 A Designer fireplace is a purchase that requires time and careful planning to ensure that your requirements are met, especially to match the aesthetics and look of your space. 
In this article, we will explore everything you need to consider to ensure you get the fireplace of your dreams which seamlessly fits within your living space. 
What is a Designer Fireplace?
A designer fireplace encompasses both aesthetics and functionality in mind which serves as the focal point in a specific room. In contrast to traditional fireplaces, our designer fireplaces are built based on the specifications of the space you're looking to transform. It stands out and captivates the elements within your home.
Factors to consider when purchasing a Designer Fireplace
There are a variety of factors to consider when purchasing a Designer Fireplace that we will cover in this article. 
This includes the following:
Choosing your surrounding
Choosing your Fireplace Style
Choosing the Type of Fuel
Choosing your Fireplace Size
All of these elements combined make for a master checklist to ensure that you've made the right decision when buying a fireplace. 
The Budget
You need to know your budget. This is one of the biggest factors which will dictate whether you splash out a fireplace with custom built design features. By determining your budget it helps to make the process of collaborating with a designer easier and less stressful.
You will be able to know your limitations which can help a designer to ensure they don't go overboard with certain concepts and elements. At Modus, our fireplaces start from £6,500 excl VAT with prices going upwards to depending on design, finish, materials and more. The budget will be the first hurdle to overcome which will give you a realistic idea of the design and features that you can have for your fireplace.
Choose the Surrounding
One of the things that need to be considered when looking for the perfect fireplace is the surroundings. There are a number of types you can choose from, from marble to steel.
Since your designer fireplaces could be your room's focal point, it's vital to choose the right surround. Also, it will dictate the room's décor. So, it's worth remembering to have the ideal surround that complements the overall décor of the room.
Second, sizing is as important as aesthetics. If a fireplace is too large, it could overpower the whole space, whereas if it's too small, it would end up insignificant. 
There are four types of fire surrounds:
Steel Fire Surround
Although some may find steel not as homely or warm, it is considered more stylish. In fact, steel fits well in more industrial or minimalist décor. It is sleek and stylish, though lacking in some homely appeal, which is commonly associated with fireplaces.

Luxury Marble Fire Surrounds
Known previously as a luxurious item, which the rich could afford, this material now has become readily available to a wide range of people. Not only is it extremely durable and easy to maintain, but also it looks dramatic and classy. It fits both traditional and modern settings.

Ledgestone Fire Surrounds
This fireplace surround is ideal for contemporary homes. Although often seen floor-to-ceiling, ledgestone is constructed from one of the most currently used materials.

Classic Brick Fire Surround
Nothing beats the classic and traditional. A brick surround is useful since it can be used in both vintage and modern settings. Also, it can be paired with other materials, like wood. It gives off a timeless aura.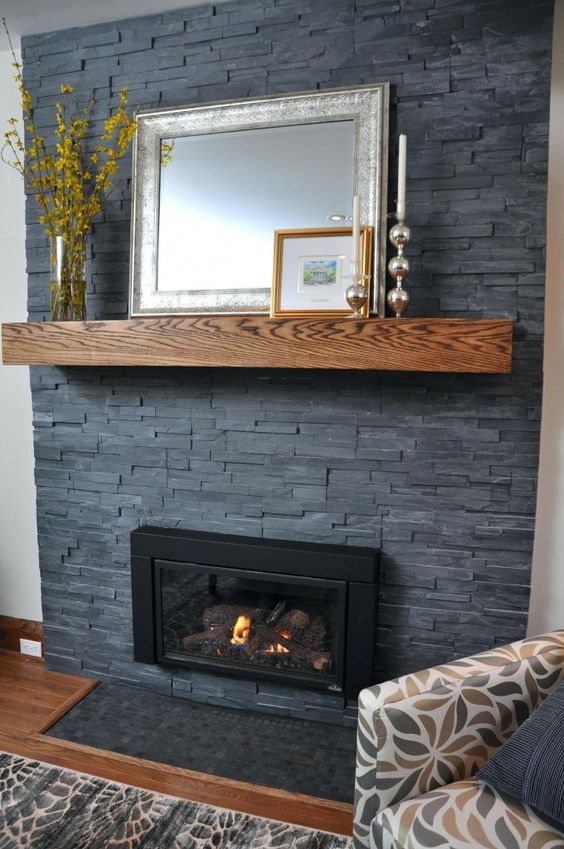 How to Choose a Designer Fireplace Style
The next thing to consider is the style of your fireplace. If you have a contemporary style home, then you might want to steer clear of traditional Victorian style fireplaces. Opt for something that would fit to the existing style and theme of your home.
The Traditional Victorian Fireplace
If you have a vintage style home or leaning toward the more traditional, opt for the Vintage style fireplace, which usually consists of dark colours and a real fire-burning wood. This type of fireplace is more ideal for large open spaces that need thorough warming.
Luxury Fireplaces
If you're after a fireplace that is top of the line then you will be looking for custom features that are different to your standard fireplace. You may be asking yourself "What makes a fireplace luxury?". 
Well, there are various features that separate our fireplaces from other competitors. For example, we utilise high end manufacturers and engineers to help construct these fireplaces based on the agreed specifications from one of our designers. 
These specifications can include a remote control function so that you're able to control the flames easier and change the settings to suit the time of day. Other innovative features (depending on your budget) can include a suspended canopy, two-sided flame and different flame colours. 
Below, you will find an example of a luxury fireplace based on one of our previous client specifications:
The Contemporary Fireplace
As the name implies, this type of fireplace is more ideal for modern, contemporary homes. It comes in a wide range of designs and styles, from wall-hung to see-through fireplaces.
Create a modern home with a contemporary style fireplace and opt for materials that match or complement your home's colour scheme.
Built-In Wall Fires
Also dubbed as "hole in the wall fireplace," this type fits just about any style, ranging from modern to retro. The plus side—this is more cost-effective since no extra materials are required to complete it.

Bespoke Fireplaces
We have a number of bespoke fireplaces which are uniquely built based on the specific needs of a client. This allows for more personalisation to ensure the fireplace fits the space. Therefore, the size, shape and materials all need to be perfect. 
Our designers work collaboratively with clients to ensure their one a kind design suits their style and preferences. A bespoke fireplace is functional, aesthetically pleasing and a great addition to your home.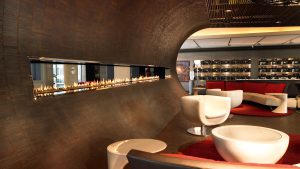 Hanging Fireplaces
This style of fireplace will be suspended from the ceiling as opposed to being mounted to the wall or on the floor.One of the benefits of our hanging fireplaces is that they can be made out of glass and steel, providing you with a variety of choices depending on your preference. 
These fireplaces can be enjoyed from all angles where the fireplace can act as a joint between different rooms. Hanging fireplaces can come in different colours and finishes upon your request.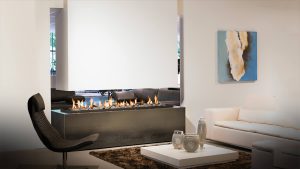 Choosing the Type of Fuel
Now, you need to decide which type of fuel you would choose for your fireplace. There are 3 main types: electric, gas and solid fuel. Also, there's bioethanol. Although there are fireplaces that are suitable regardless of fuel type, some are not.
If you plan on having gas or an electric fire, then you have much free choice of material type for your fireplace. However, when it comes to solid fuel fire, the material you can use will be restricted.
Here are the most common fuel, including bioethanol:
Electric Fireplaces
Electric fires have gained popularity in most households because it is the easiest and the cheapest to install. In fact, it can be fitted in virtually almost anywhere.
Also, thanks to advancements in technology, gone are the days of looking at "fake" fires. Electric fires now feature beautiful visual effects, with some featuring realistic-looking flame.
There are different varieties of electric fires, depending on the flame effects. Now, you can feel warm, cosy and enjoy beautiful fires without having to worry about wasting electricity or unnecessarily using heat.
Unlike solid fuel fires, electric fires don't use coal or wood. Instead, electronically heated metal coils produce heat, which is spread throughout the space using a fan.

Gas Fires
Although electric fireplace's flame effects have drastically improved over the past years, many still want real flames minus without the upkeep of solid fuel fire. This is where gas fire comes into play.
Gas fires come in various types and are available in all styles, sizes and designs.
Bioethanol Fireplace
Also referred to as "gel," bioethanol fires are attractive, innovative and carbon neutral. It's no surprise they're becoming a trend.
The downside to this is that arguably bioethanol fires cannot be considered an actual standard heating appliance. Instead, they can be seen as a decoration piece.
Additionally, they're quite costly, since it requires fuel to function. Some units could appear to be of good value because the fire itself is externally big. But this may not always be the case internally since some may have small burners, restricting the amount of heat produced.
Solid fuel
There's nothing better than real fire. If you really want real fire, ensure you have the right type of chimney. Generally, you're good to go with solid fuel fire if you have a chimney pot or a brick chimney on the roof.
However, be prepared for the required upkeep for a fully functional fireplace. This means you need a chimney sweep and check if your chimney is in good working condition.
How to Choose a Designer Fireplace Size
Finally, the size. This involves how much you want to feature your fireplace. If you have a small space, you don't want your fireplace to overpower the room or overwhelm it aesthetically. Likewise, if you have a large room, you would want your fireplace to be seen.
When you are redecorating, draw up the size of the fireplace on the wall, giving you an idea of the exact size that's ideal for the space.The layout of the room will also be a factor to consider as you don't want a fireplace to overpower the room it will feature in. 
Each project will have its own challenges and different dimensions so there is no one size fits all with our fireplaces. Our design consultant will be able to provide you with scaled drawings and a 3D Visualisation so you can imagine what your fireplace will look like in your home. 
Conclusion
Hopefully, this article has given you an idea of which designer fireplaces best suit your home style and décor. As mentioned, there are many types of fireplaces, fuels and surrounds. Head to our different ranges to see all the different kinds of luxury fireplaces you could install in your home. We have wide ranges of hanging fireplaces, high-efficiency gas fires, outdoor fireplaces and more.
Contact us today to discuss our luxury fireplaces with a Design Consultant.