3rd February 2018
2018 Bespoke Fireplace Trends: The Future of Frameless Fireplace Designs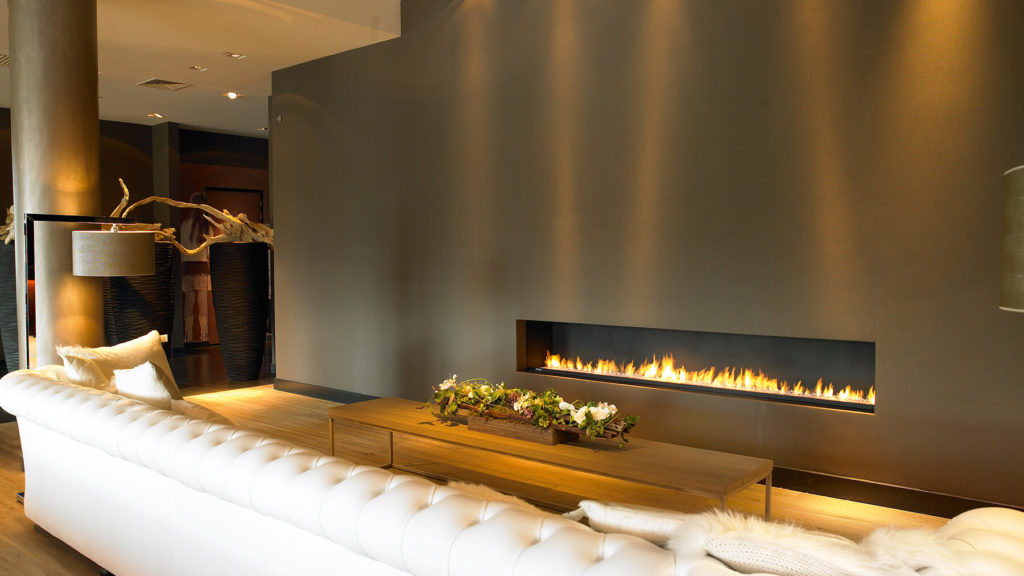 A bespoke fireplace is a welcoming addition to your home, whether it is placed in the bedroom, living room or office or library. Nothing beats the winter blues than a roaring fire, cosy blankets and some hot beverage.
Additionally, a fireplace also helps create a striking focal point for your space, regardless of the season. The best part, it can be a conversation piece during simple or large gatherings with friends and guests.
Since fire is on fire for 2018, and if you're planning on updating the look of your hearth, you're probably bombarded with a wide selection of colour schemes and styles to choose from.
So, to help you make a well-thought decision, we've come up with a collection of the hottest bespoke fireplace design trends for 2018.
But wait!
This isn't just a long post about the trending fireplace designs that will hit 2018.
This post is specifically about the future of modern fireplace design—frameless fireplace. Of course, every designer has his or her own take on which should be considered "hot" this season, from a list of colours, materials and styles.
The design possibilities are infinite!
That being said, frameless fireplaces can definitely accommodate that vision.
Here are the top frameless fireplace designs set to re-define the future of your hearth in 2018.
Frameless fireplace: Defined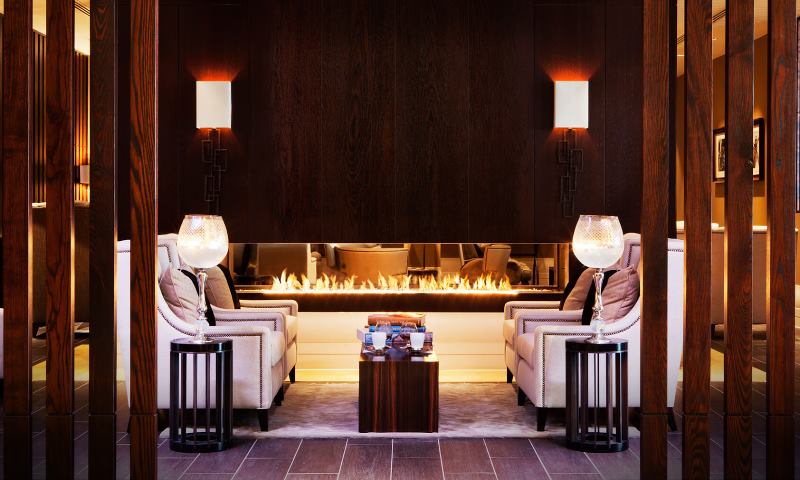 Designed to spread across the length of the wall, either recessed or flushed, a linear fireplace is one of the many kinds of gas fireplaces on the market today.
Often referred to as contemporary or linear, it features a rectangular opening for the flame, covered with high-quality double-glass heat barriers that allow nearby objects to be placed or hung without the fear of them being damaged by the heat emanating from the hearth.
Fuelled by either propane of natural gas, it can be installed both indoor and outdoor.
It has become very popular in residential and commercial spaces thanks to its clean and slim face, creating an eye-catching, beautifully stunning look.
What is the ideal height of the glass opening? The height of the glass opening is one of the many key factors to consider when selecting a hearth.
The narrower the rectangular opening, the limited the view of the flame. The glass opening should be at least 16 inches, although its final size would largely depend on the desired proportions and space where the hearth will be installed.
The beauty of a frameless fireplace
These technologically innovative designs help create and enhance the definition of your space. Modern-day fireplaces such as these are designed with safety and maximum enjoyment in mind, utilising a distinctive burner design, a direct vent system and of course the precision of high-quality glass barriers.
The following are the types of frameless fireplaces:
Corner—These are ideal solutions that bring focus to your space, be it narrow or wide, right-side or left-side corner or imposing or cosy. The modern luxury of the direct vent system affords you to enjoy the heat-producing properties of a traditional hearth.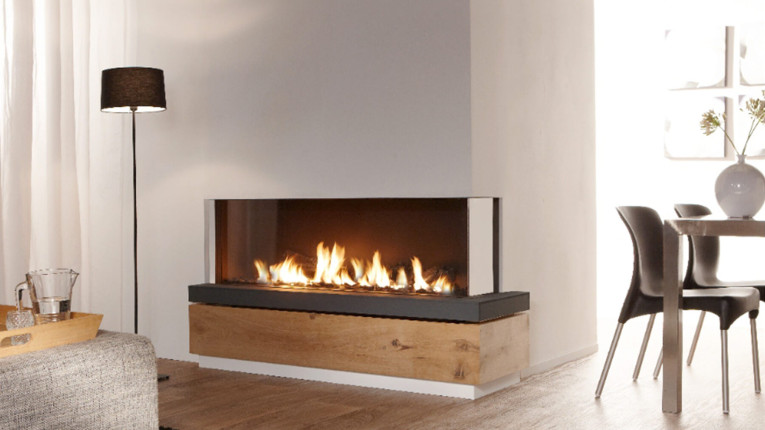 Front-facing—An extraordinary classic positioning of an innovative design, this type is fully integrated into the walls and other architectural elements of your space. This is ideal if you want to merge the traditional look with the modern charm of this hearth.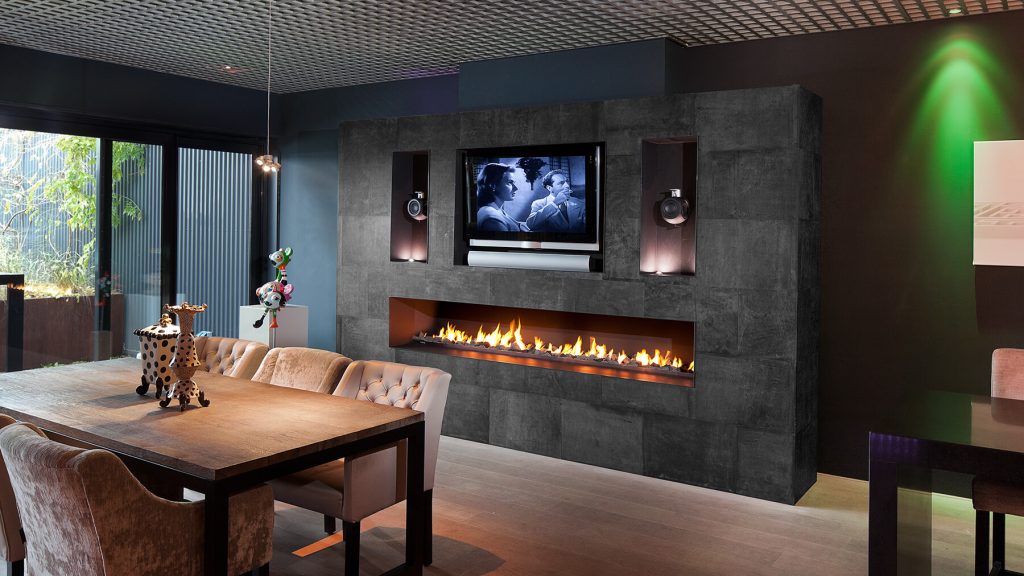 Three-sided—An architecturally stunning display of the fireplace's unique features gives you a clear view from three vantage points. Plus, it features other endless design possibilities. You can create a harmonious flow from one room to the next without having to deal with a large dividing wall, opening up the space for a more comfortable at-home feel.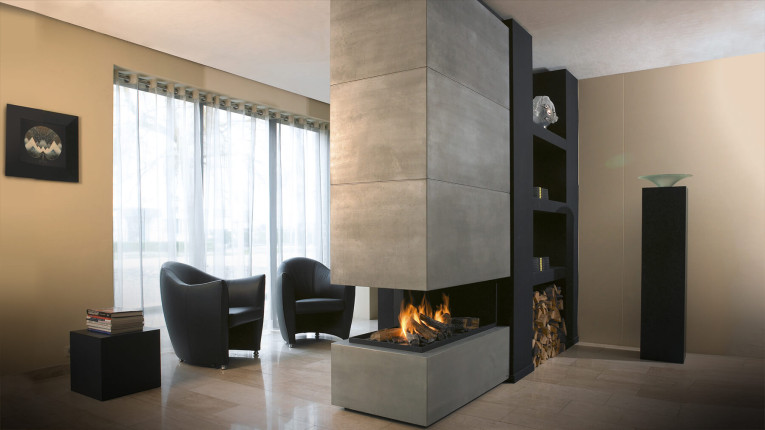 Indoor/outdoor—This connects the outdoor and the indoor, creating a 3-dimensional tableau. This is by far the most creative model that doubles its functionality. Protecting the home from outside elements such as condensation and winds is the fireplace's strong exterior glass while also providing an efficient heating system warming your indoor space.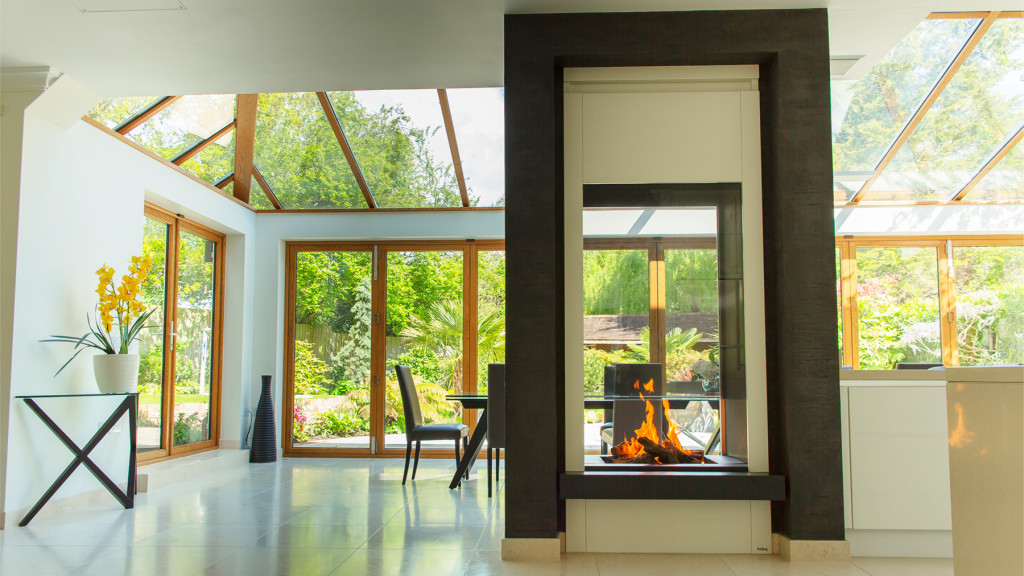 The Trends
Now that has been covered, see how designer fireplaces are to make leaps and bounds in 2018:
The Past Collides with the Future in the Present
A hearth with a frameless design might be synonymous with contemporary minimalism, but they're not just a one-trick pony.
2018 is about mixing the traditional past designs with the future of fireplace design. For example, this modern gas fire is surrounded by bricks, for that traditional-style feel, yet with a contemporary twist. The hanging chandelier helps balance out the contrast and symmetry in this style-spanning hearth.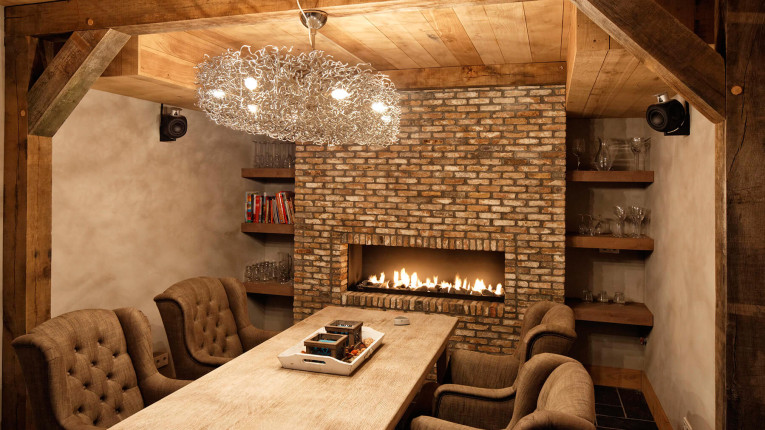 Minimalism still reigns supreme, yet with more versatility
A minimalist design immediately comes to mind when you hear a frameless-designed fireplace. Intended as the less cluttered and sleeker modern version of a traditional hearth, a frameless design pairs perfectly well with no-nonsense, barebones aesthetic appearance.
Plus, its streamlined look has a timeless appeal, which we all know isn't going anywhere anytime soon, as architects and designers are moving away from a plain look this year.
When you embrace a minimalist style that features a cleaner and less cluttered look, you are always open for more additional décor elements such as more sumptuous décor, colourful throw pillows, and the like.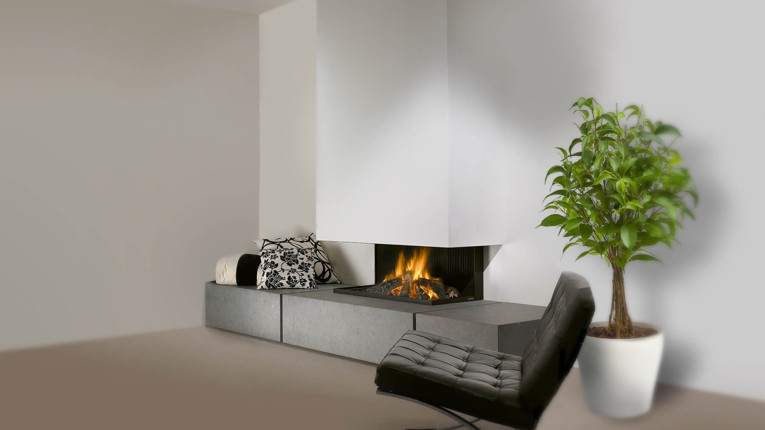 The Age of Eclecticism in Design
Designers are increasingly moving out of their comfort zones and embracing the age of eclecticism, including in the designs of your home's hearth. 2018 is also about mixing and matching patterns, styles and varying colours like never before.
Diversity is the new standard, from gold chandeliers to patterned wallpapers to herringbone floors.
True to the newfound ethos, this frameless fireplace setup combines a right-sided and left-sided model in an asymmetrical arrangement. Combine that with bright, upholstered furniture and a wall pattern that pops right out at you, and you have a contemporary designer's dream.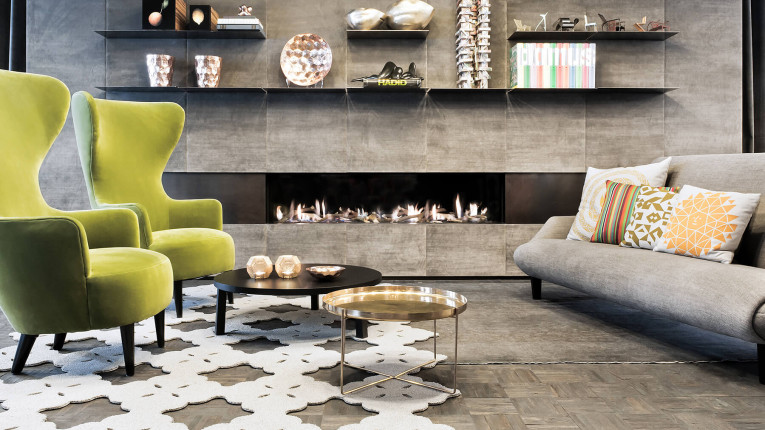 Natural wood, dark browns and everything else in between
Natural wood is making a comeback. Their classic, durable, down-to-earth appearance makes them perfect for this year's theme—the past meets the future in the present.
This means classic wood will not just be paired with the usual brick, but other materials as well, including metallic, leathers, etc.
Classic wood also comes in a wide array of patterns and stains that can easily accommodate your changing taste.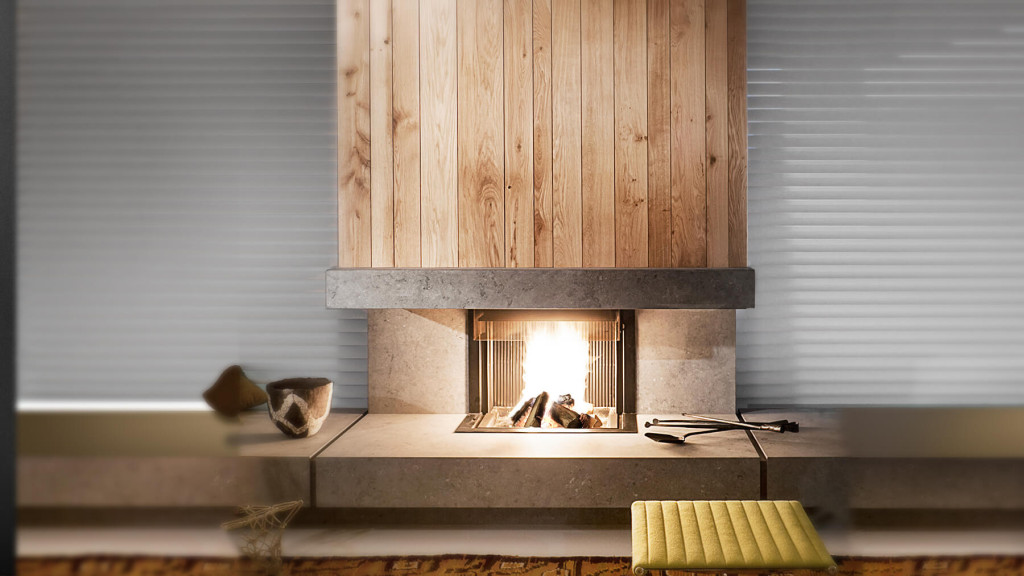 Metals and more metals
There is one thing designers agree on—metals, from mixed metallic décor to just neutral metallic wallpaper. Others have even incorporated a frameless hearth with luxurious black metals, representing a sharp movement away from the atypical lighter or whiter metallic appearance.
Take the chic,  striated and clean design of this fireplace surround. Its seamless look makes a perfect focal point for this richly varied arrangement, blending glass, metals and wood.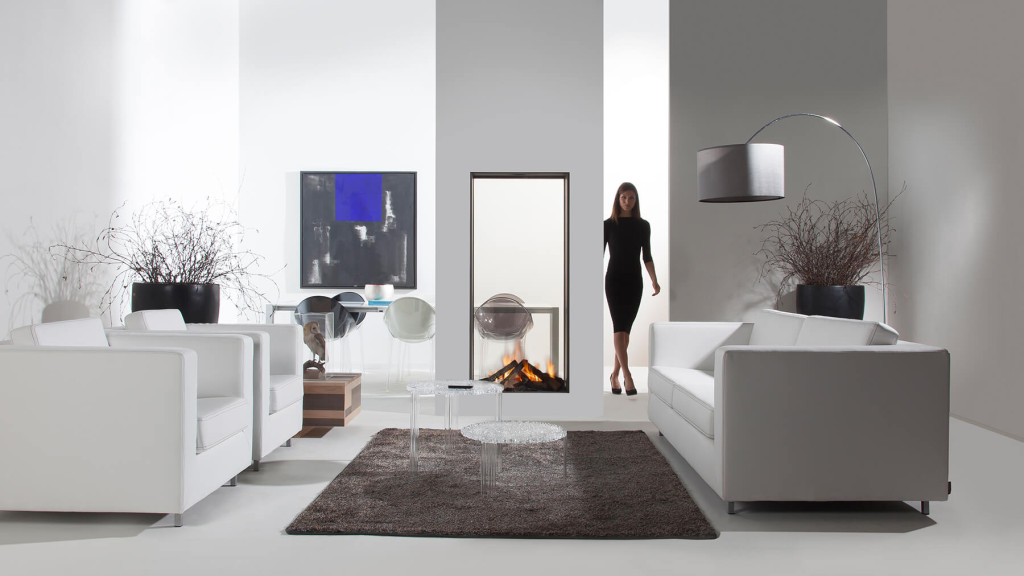 The Future: Frameless and Floating
Designers are willing to trade the simple minimalist with the eclectic and vividly rich colour arrangements.
Whether you're willing to embrace the bespoke fireplace trends of 2018 or comfortable with the current flavour of your hearth, these contemporary frameless fireplaces surely can help enhance your space, providing you with a versatile and timeless look that will become your home's focal point.