23rd November 2017
Pros and Cons of Double Sided Fireplaces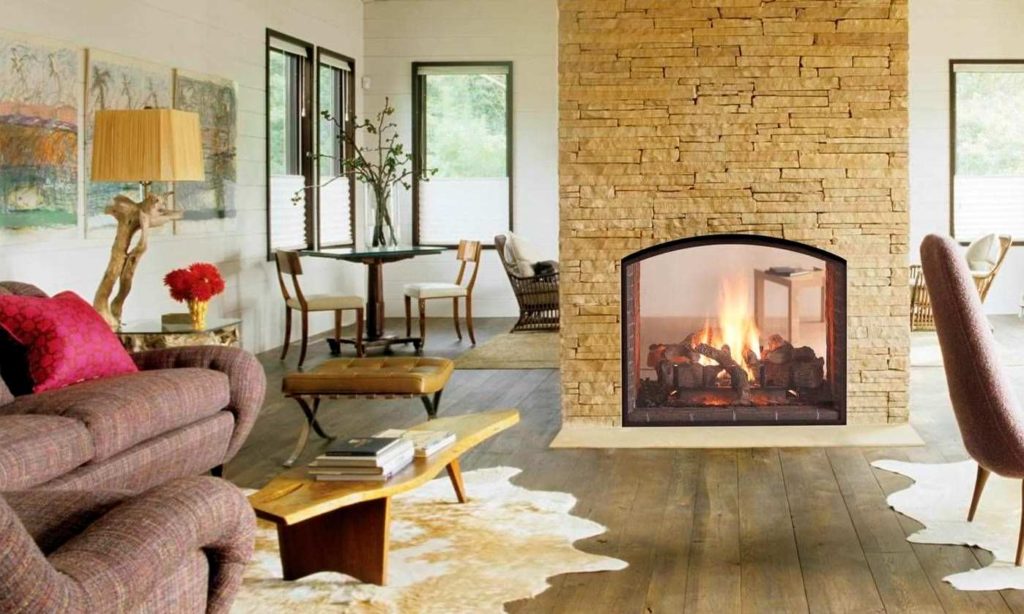 Modern fireplaces are the perfect centrepiece in large, contemporary homes, and among all types of fireplaces, double-sided designs are one of the most popular.
Apart from being a fabulous designer feature, double-sided fireplaces are also a great way to break up space while sustaining visual and light flow between two areas.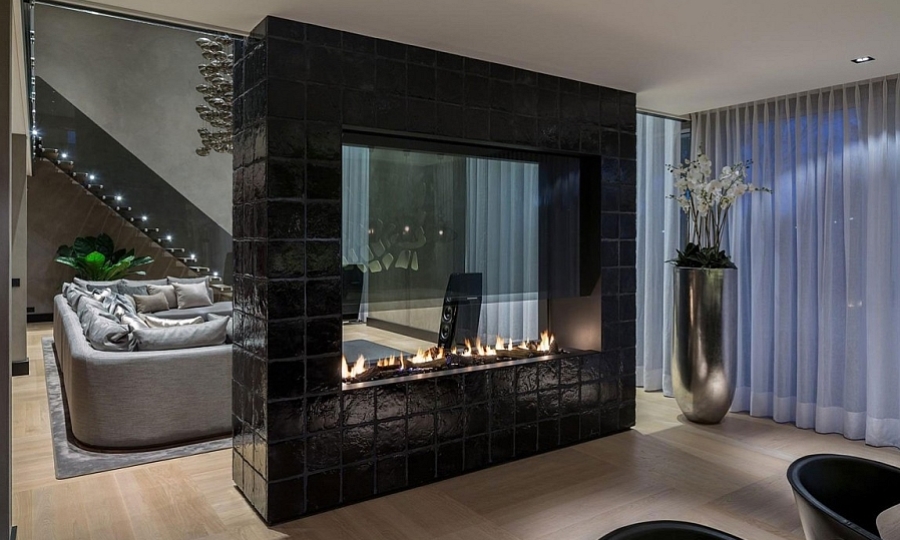 However, like most things in life, there are both pros and cons to this type of fireplace. For instance, if your property has a full-sized living room and kitchen area with the fireplace located at the end of the living room, most of the heat will be lost before it even reaches the kitchen. But if the fireplace is located between the living room and the kitchen, it will function as an efficient dividing wall while delivering heat between the two separate rooms.
Here are some of the pros and cons of double-sided fires that you need to know about:
Benefits of Double-Sided Fireplaces: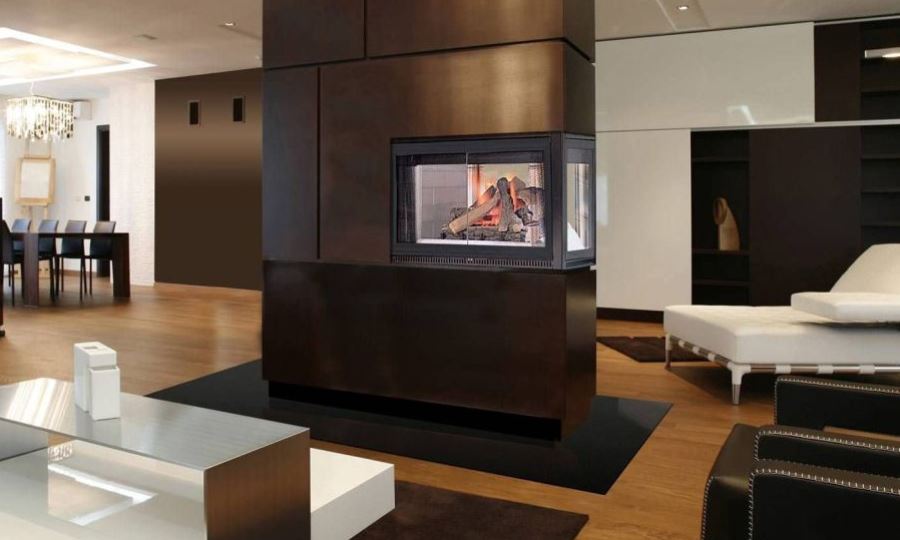 Safety First – Double-sided fireplaces are safer than many other kinds of fireplaces due to the sturdy glass enclosing the flame. This is particularly ideal if you have small children in your house. Even though you can get fire guards for open fireplaces, these tend to destroy the visual appeal of the hearth.
Striking Centrepiece – Everyone wants a statement piece of furniture in their home. A modern two-sided fireplace will definitely be a conversation starter as they are extremely stylish and highly uncommon.
Even Distribution of Heat – Double-sided fireplaces are usually located between two full-sized areas. By doing so, the heat is evenly distributed compared to a traditional hearth placed against one wall. With conventional fires, the heat can cluster up in one area rather than scatter throughout the entire space.
Things to Consider with Double-Sided Fireplaces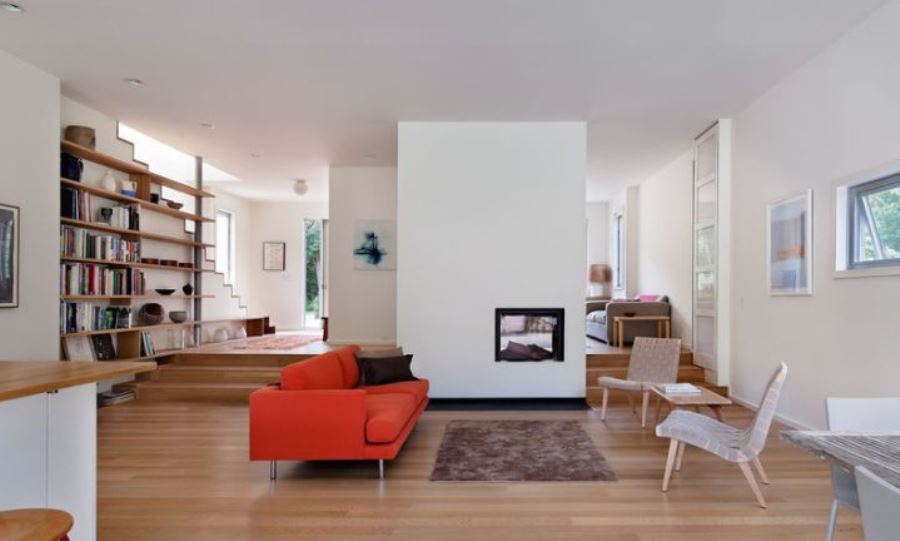 Accurate Wall Supports – This will not be an issue if the two-sided fireplace will be installed in a partial divide that is only 3ft high. But if you're going to place a double-sided fireplace on a floor-to-ceiling divide, then you have to make sure that you are utilising proper wall supports. Remember that without correct supports, the fireplace could collapse anytime.
Mismatching Styles – When decorating a double-sided fireplace, a lot of people try to give each side a distinct design. Modern and simplistic décor come hand in hand in most cases. But then again, some homeowners design each side of their double-sided fireplace differently, and it ruins the element of simplicity.
Large Cost – Double-sided fireplace is still a new concept on the market nowadays. Like any advances and new ideas in technology, it also comes with a higher price tag than the traditional items that have been around for many years. Nevertheless, double-sided fireplaces are worthy of your investment. If you have the budget to spare, definitely think about installing one of these stunning fireplace designs.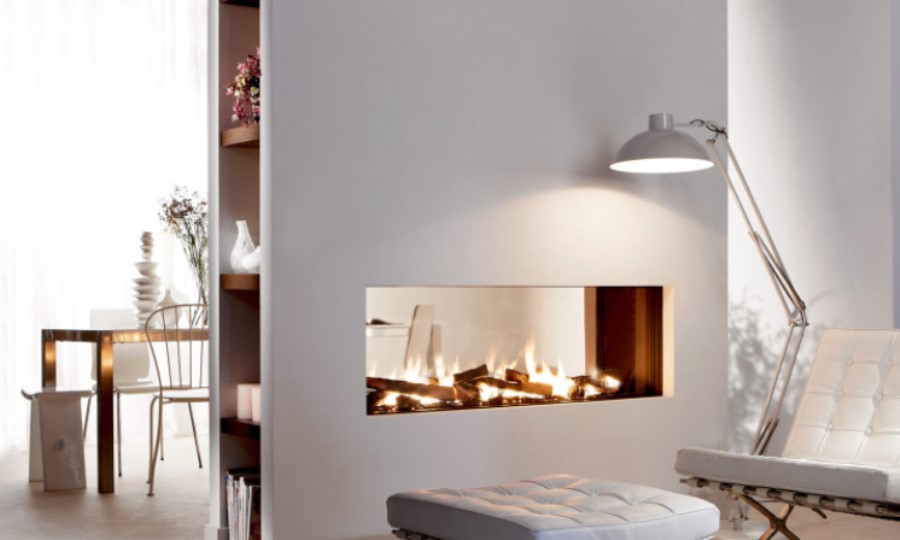 Double-sided fires add a certain contemporary touch to your home that no other pieces of furniture can give, so think about installing one of these fireplaces for your next revamp.
If you don't think a double-sided fireplace will be right for your home, then check out some of our other collections. We have efficient gas fires, hanging fireplaces, wall fires, and even outdoor fireplaces for you to explore. And if you want a fireplace that has been created uniquely for your home, then take a look at our bespoke fireplaces.
Contact us today to get the ball rolling on a tailor-made fireplace in your home.