22nd January 2018
15 Bespoke Fireplaces With Modern Designs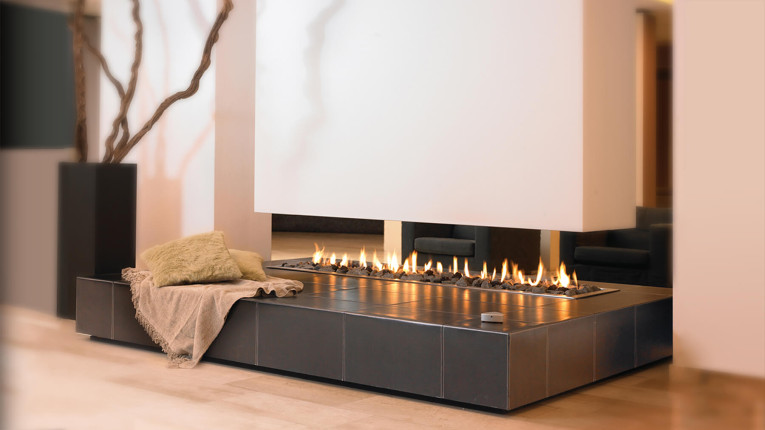 Do you feel like the fireplace in your home does not fit your style and personality? Are you thinking of having a prefabricated fireplace unit installed but are concerned that it might look too standard and plain? No matter what your concerns may be, there is a perfect solution for that: Bespoke fireplace designs.
Bespoke fireplaces make a structural statement that determines the style of the space. Aside from transforming the ambience, as well as the overall character of a room, investing in a modernized fireplace design may also boost the future resale value of your property.
Nowadays, you can choose from a range of styles varying from conventional to contemporary and urban to rustic. When you are planning the design of your new modern fireplace, you can choose from an extensive assortment of materials—brick, cultured stone, granite, veneer, marble, wood, steel, and a whole lot more. All of these materials can be utilised in different ways to produce a one-of-a-kind bespoke fireplace that creates the atmosphere and mood you desire most.
For those homeowners wanting to incorporate a modern fireplace unit that's designed precisely according to their specified preference and measurements, here are 15 of the best bespoke fireplace designs ideas that will definitely fit your home scheme:
Place It In-Between Spaces
Customised to the client's liking, this remarkable design sits gracefully in between the dining and the living area. It has a sleek sculpted look with its decorative panels position between the ceiling and the clear glass. This unit also produces a sense of clarity and continuum as it allows warmth and light to flow in all spaces.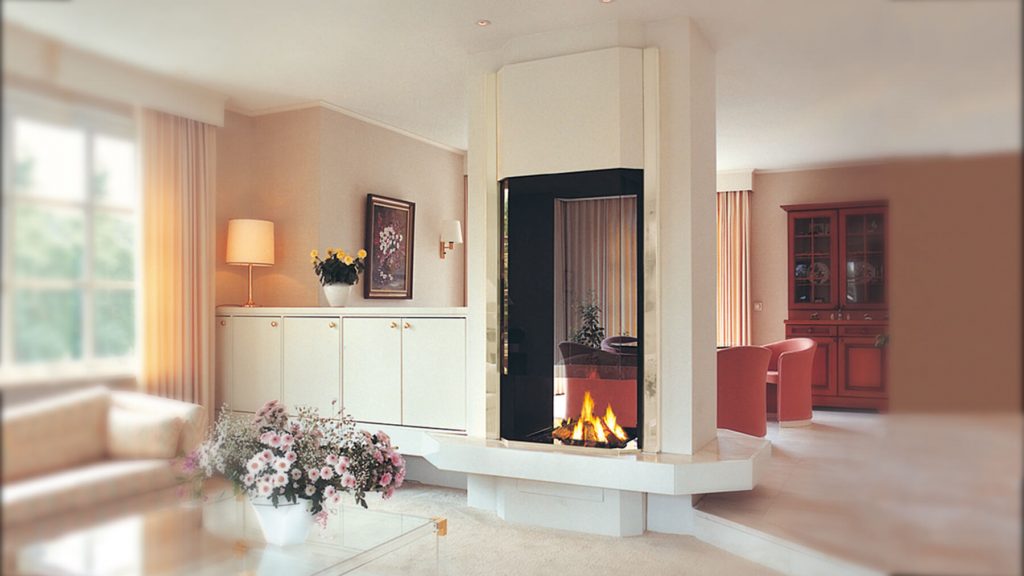 The Cosy Nook
With its stone base, hanging canopy, and open view of the dazzling flames—this bespoke fireplace is certainly a piece of charm and elegance. The base, as well as the top section of this unit, can be made out of different materials to ensure that you'll obtain the ultimate bespoke look. If you want to transform it into a cosy nook where you could enjoy an afternoon tea while reading a good book, simply throw in some soft pillows to the side and you got yourself a homey space to relax by the fire.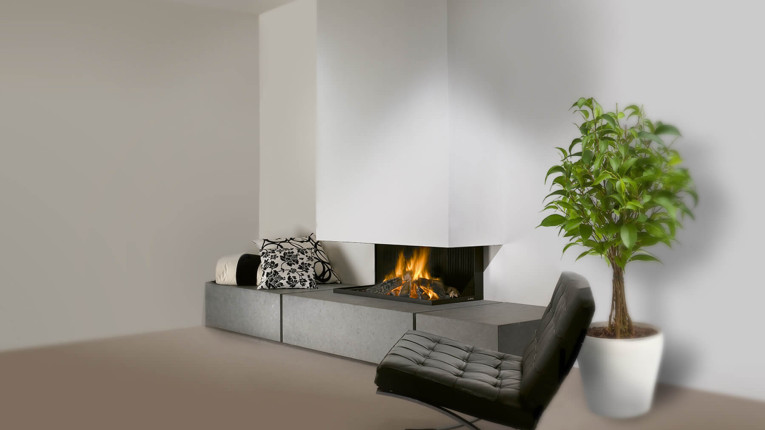 Double-Sided Fireplace Design Feature
This particular design was custom-made to settle in between the kitchen and the dining area. It has an unusually alluring aesthetic that adds dimension and focal feature to this already beautiful space. This unit also allows natural light to pass through while proving heat to both spaces.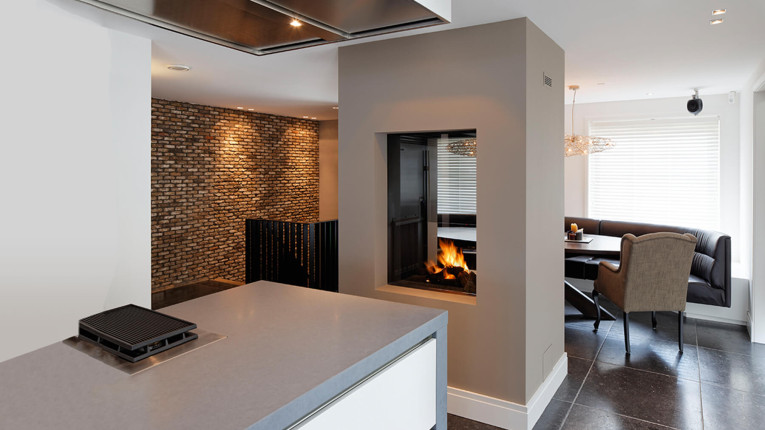 Your Home Centrepiece
Let your modern fireplace be the centre point of your home. After all, it can be quite bulky and it tends to require adequate space. This unit's angular shape is ideal for both conventional and contemporary home setting, as the materials and the size of the fireplace can be tailored to attain your design preferences.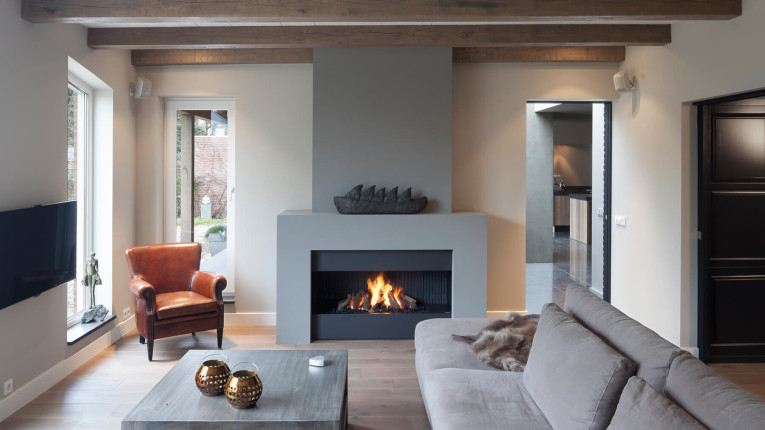 Opt For a Modern Design
Design a bespoke fireplace that's as unique as your personality. Have a look at this unit as an example—it has a remarkable design which was built by combining different materials to produce a very unique and stylish look. The design and the size of the base, as well as the top section of this fireplace, can be fully custom-made to fit your requirements.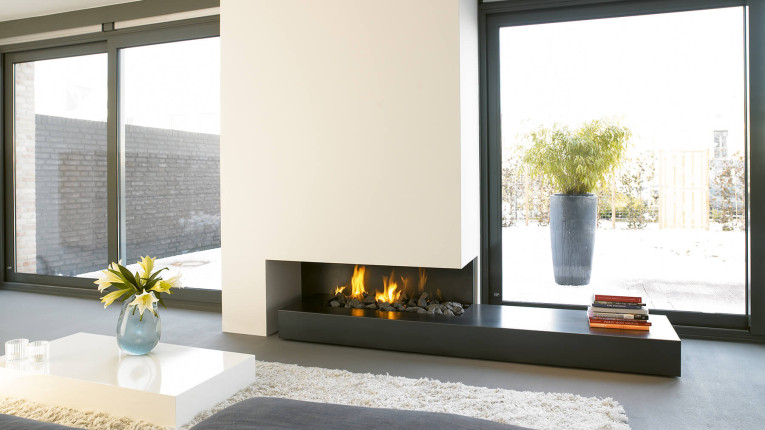 The Zinc Fireplace
A lot of fireplace design nowadays usually utilizes traditional elements and materials; but not this one. This particular piece is remarkably stunning with its sculptured design made from zinc. It has been engineered to produce dramatic dimension and depth to any space.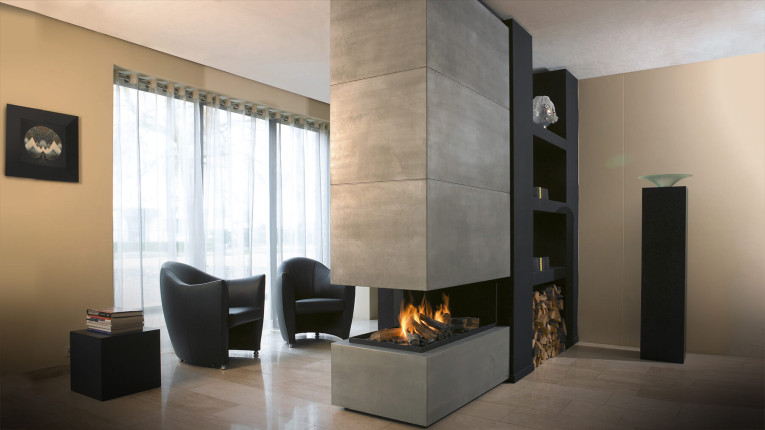 A Unique Focal Point
Another completely unusual design from our fireplace collection is this modern centrepiece with a striking layout which extends up to the ceiling. This piece has a visually striking design which features a double-sided function. It has been custom-made to flawlessly fit in the room, with enclosed clear glass to render a two-sided view of the comforting flame.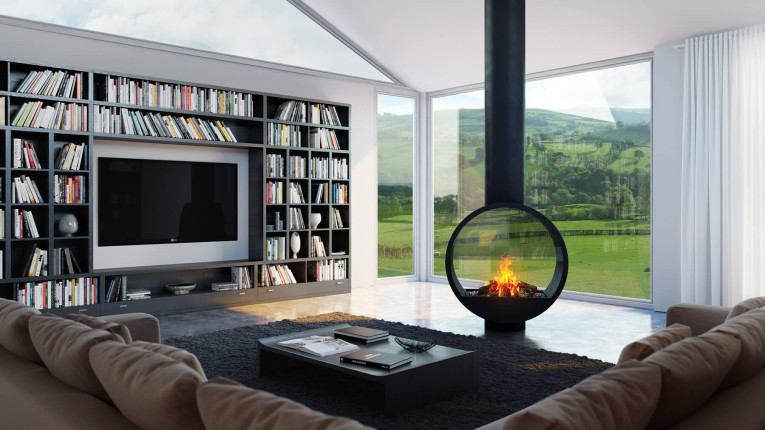 Contemporary Media Wall
This bespoke fireplace has been specifically designed to fit the client's specification. The homeowners wanted a contemporary media wall along with a gas fireplace sitting just underneath the television. What's more exciting with this design is that it conceals the media section when it's not in use, and with a simple click of a button, the sliding panel right above the fireplace unit glides across to reveal the TV. With another click, the fireplace instantly lights up so people can enjoy two things simultaneously.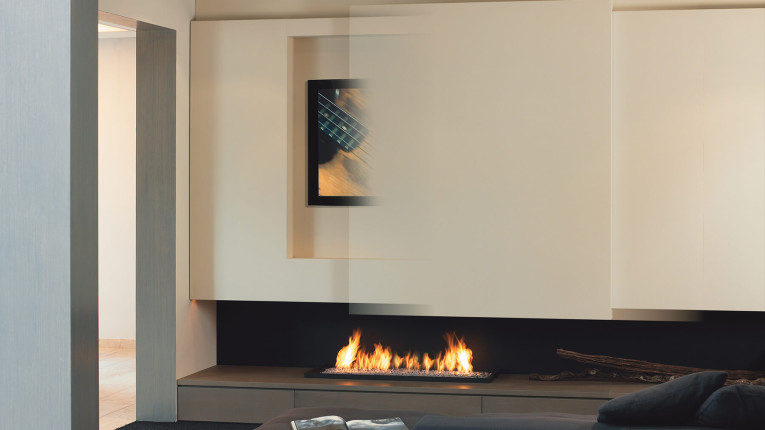 The Multi-level Fireplace Unit
If you want to have that ultimate wow-factor, then go for a stunning gas fire design like the one shown above. Always choose to veer away from the mediocre whenever you can and make your own fireplace design that would best suit your style and character. Also, when you opt for a design like this one, you will never fail to amaze your visitors.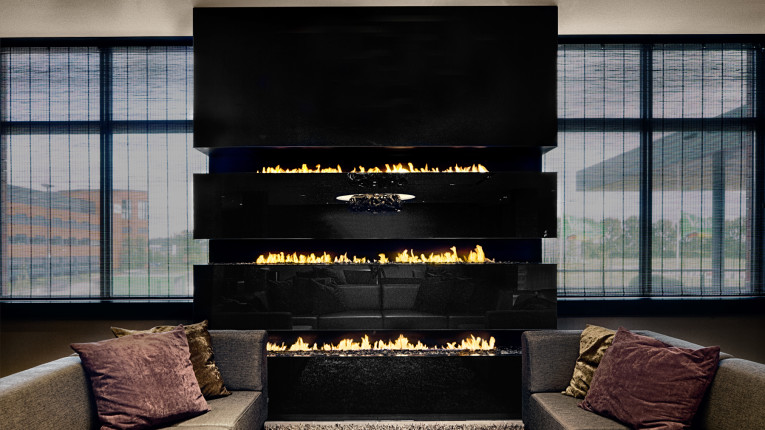 Hanging Fireplace Solution
One way of breaking up an open space is by installing a bespoke fireplace design that also functions as a cosy centrepiece. Like any hanging fireplaces in our collection, this one has also been custom-made to fit between the ceiling and the floors, enabling a perfect three-sided view of the flames.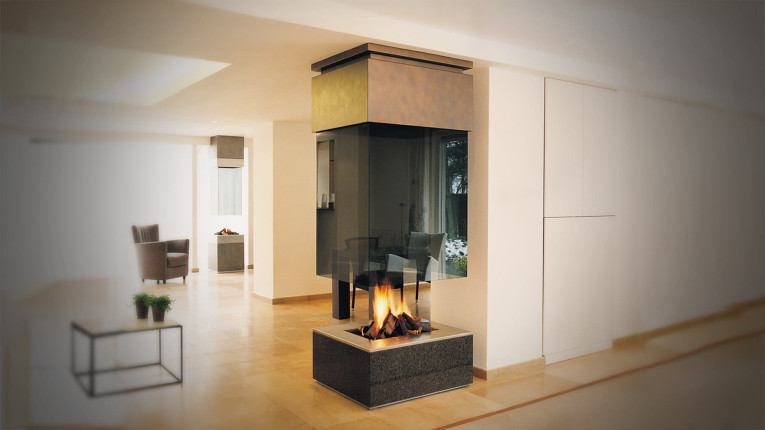 The Anti-reflective Feature
This contemporary unit is built up to the eye level, allowing people the marvellous stretch of the flames. To further boost its style and modern flair, this design was built with an anti-reflective glass making it almost invisible, so the fires can be enjoyed without parallel. It creates a perfect balance between modern-day style and function.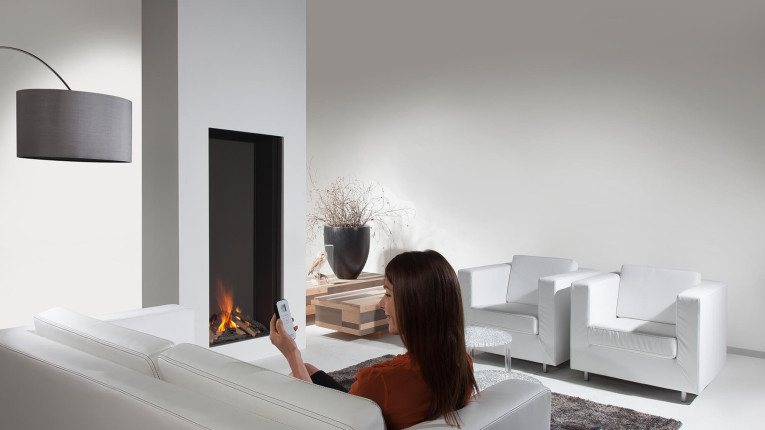 Small and Minimalist Wall Centrepiece
If you're looking for an economical and functional gas fireplace with a unique design, then this one is perfect for you. It's completely distinct from the conventional models, and its distinctiveness clearly stands out from the usual styles. It is also a double-sided bespoke unit that can be installed in-between rooms to fully maximize its purpose.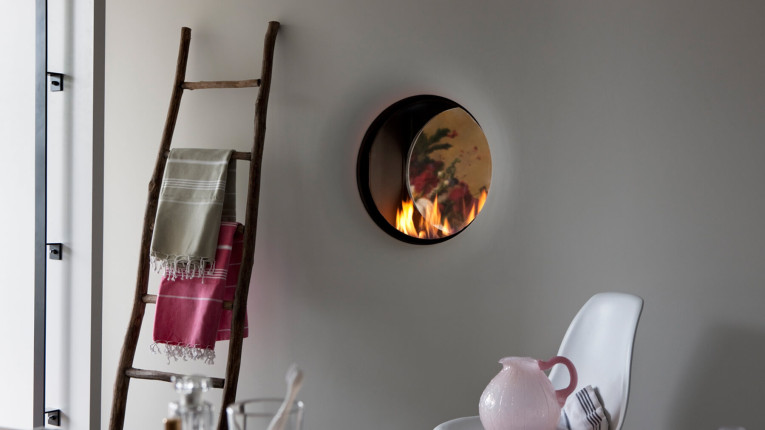 Bring It Outdoors
If you love spending time with your family on your outdoor patio, then this design might be the best choice to go for. This one has a modern style that is obtainable for both natural and bottled gas. This unit is also enclosed in glass, which means it has a powerful heat output which can provide comforting heat to the entire space.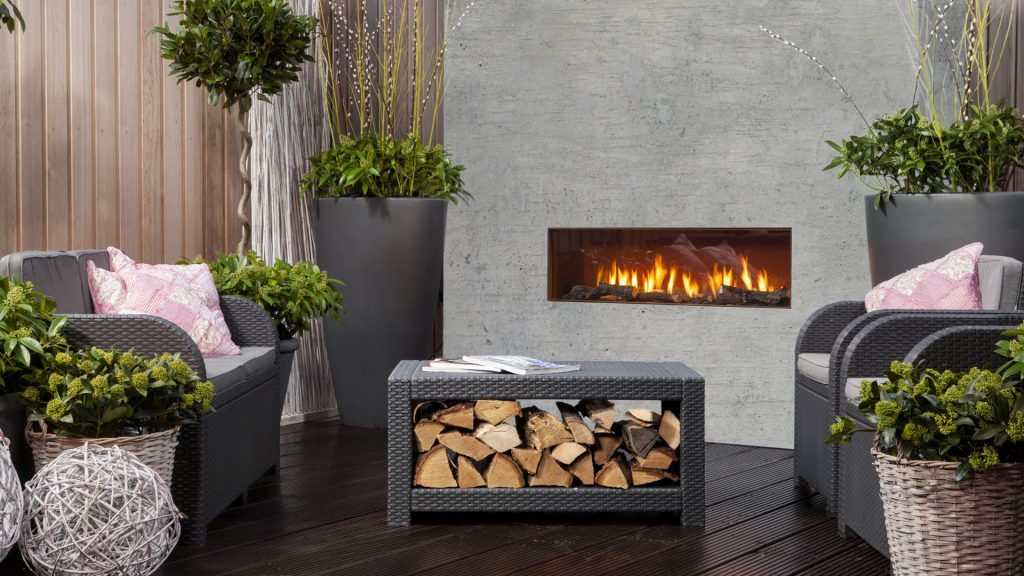 The Firebox Model
This contemporary fireplace design is set to produce an exceptional ambience. It's a bespoke outdoor gas fire with glass safety and wind surround tailored at the centre of a coffee table. It' an ideal way to cosy up after a long day at work or school.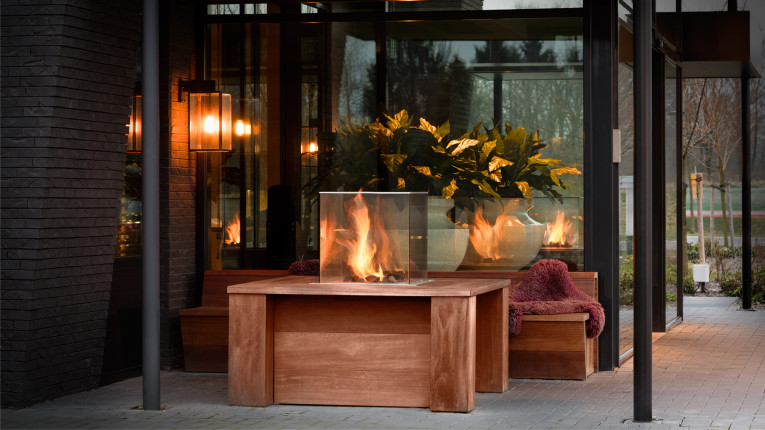 The Paperclip Design
The traditional way of integrating a fireplace unit in your home would be to mount it on a wall. However, if you're thinking of installing a completely unique centrepiece, then definitely consider this bespoke fireplace design. Despite its massive look, it was cleverly created to function within any space by means of making the gas run through the arching hood before driving them underground until they get expelled outside with the help of an advanced extraction system.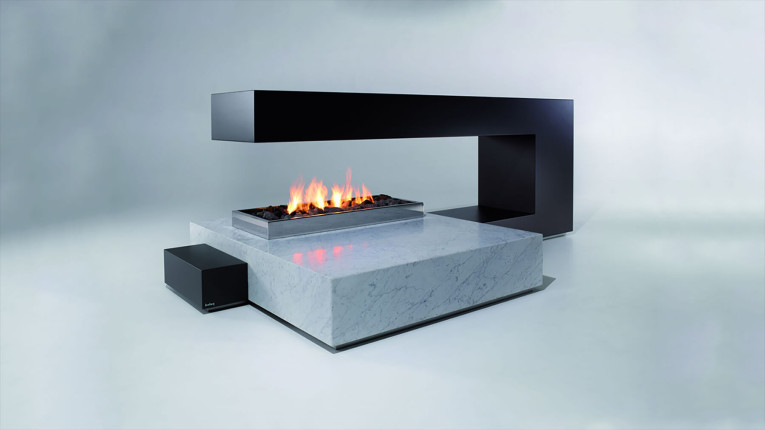 Choose a fireplace design that stands out from the crowd. Opt for bespoke fireplaces and transform your home from looking plain and ordinary to elegant and contemporary. Browse through our collection to discover more designs!